NEAR Protocol, a Blockchain Operating System (BOS), demonstrated notable growth in the third quarter of 2023, defying the challenging conditions of the overall cryptocurrency market. 
According to a recent report by Messari, key metrics for NEAR Protocol surged significantly over the past month, buoyed by recent price increases across the crypto market.
Surge In Transactions Drives Revenue Growth For NEAR
Per the report, despite a moderate downturn in the crypto market, with XRP and Grayscale facing court rulings in their favor, NEAR Protocol showcased resilience. The total crypto market capitalization dipped by 5.8%, with Bitcoin (BTC) and Ethereum (ETH) experiencing declines of 7.5% and 10.0% respectively. 
Within this context, NEAR's circulating market capitalization decreased by 14% quarter-over-quarter (QoQ) to $1.08 billion, while its fully diluted market capitalization decreased by 17% QoQ to $1.12 billion. 
Nevertheless, NEAR Protocol maintained its position as the 40th largest crypto protocol by market capitalization by the end of the quarter.
One of the highlights in Q3 '23 for the protocol was the revenue growth, which increased by 9% QoQ from $98,000 to $108,000. The average transaction fee remained at a low $0.001 throughout the quarter.
Regarding network activity, NEAR recorded substantial growth in addresses during Q3 '23. Active addresses increased by 350% QoQ, reaching 260,000 daily active addresses, while new addresses saw a 274% QoQ increase, totaling 51,000 daily new addresses. 
This growth was primarily fueled by the launch of KAIKAINOW, NEAR's leading application, and supported by contributions from the Web3 health and fitness app, Sweat Economy, and Aurora, a solution that allows the execution of Ethereum contracts in a "more performant environment" in the NEAR ecosystem.
TVL Drops To $52 Million In Q3 2023
According to Messari, NEAR's Total Value Locked (TVL) experienced a 13% QoQ decrease, amounting to $52 million by the end of the quarter. NEAR ranked approximately 35th among blockchains in terms of TVL.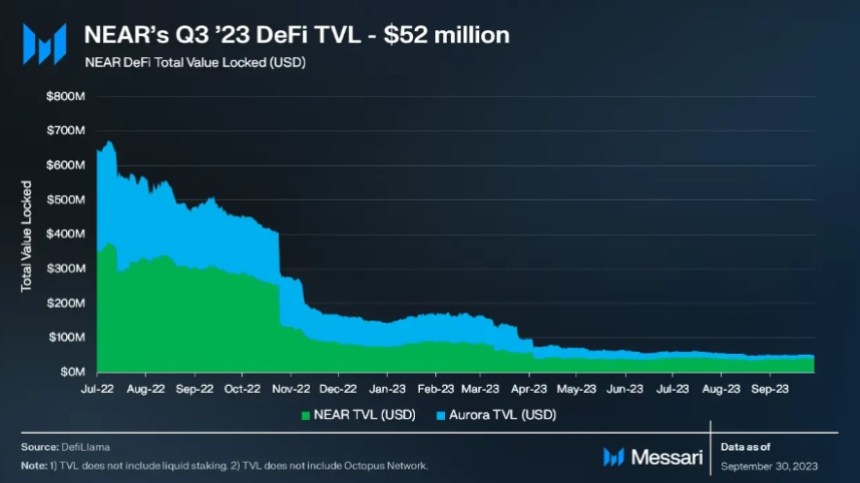 Within the NEAR Network's TVL, NEAR's contribution accounted for $41 million (80%), while Aurora contributed $11 million (20%).
Regarding DEX trading volume, NEAR reported an average daily volume of $1.3 million, maintaining stability compared to the previous quarter. NEAR ranked approximately 30th among DEX trading volumes.
NEAR's stablecoin market capitalization experienced a 27% QoQ decline, primarily driven by reductions in USDC and USDT. However, the native USDC was launched on NEAR during this period, while USN, the winding-down stablecoin from Decentral Bank, remained unchanged.
NEAR Token's Bullish Momentum Continues
Regarding price action, as observed in the 1-day chart below, NEAR Protocol's token, NEAR, has broken a prolonged downtrend that commenced on July 20 and concluded on August 18, leading to a phase of accumulation.
However, on October 19, the token initiated an uptrend, resulting in significant gains of 12% over the last 30 days, 22% within the fourteen-day timeframe, and 22.3% in the past week. Presently, the token continues its rally, exhibiting a 2.6% surge in the past 24 hours, bringing the current trading price to $1.23.
When considering the year-over-year period, the token remains significantly below its high in 2022, experiencing a decline of 60% over this duration. Furthermore, for NEAR to reclaim its 2023 yearly high, which stood at $2.83 and was achieved in April, the bullish momentum must persist.
It remains to be seen whether the token can sustain its current bullish momentum and establish a new yearly high, capitalizing on the rallies witnessed by the largest cryptocurrencies in the market in the upcoming months to generate further profits.
Featured image from Shutterstock, chart from TradingView.com